As you will know it's Te Wiki o te Reo Māori (Māori Language Week) from 13-19 September. Our company Leadership Lab NZ signed up to participate in the Māori language moment at noon on Tuesday along with many across Aotearoa.  We sang four waiata together with no-one on mute…..thankfully we had Youtube to tautoko us 🙂
These last four weeks have been quite a shock for most of us where we found ourselves back in lock-down here in Aotearoa – something I perhaps naively thought was behind us.  Our thoughts are with our friends and colleagues in Tāmaki Makaurau who are still persevering with Level 4 restrictions.
Covid-19 also continues to have a significant impact on the Queenstown and Wanaka communities in terms of job losses, lost income, impact to business and pressure on community groups. Over the last 12 months, Leadership Lab has been working alongside the Queenstown Lakes District Council (QLDC) Economic Recovery team who have commissioned the Te Kakau project to support current and emerging local leaders. The name Te Kakau means the 'stalk in the centre of the harakeke, providing leadership and support for the inner and outer leaves.'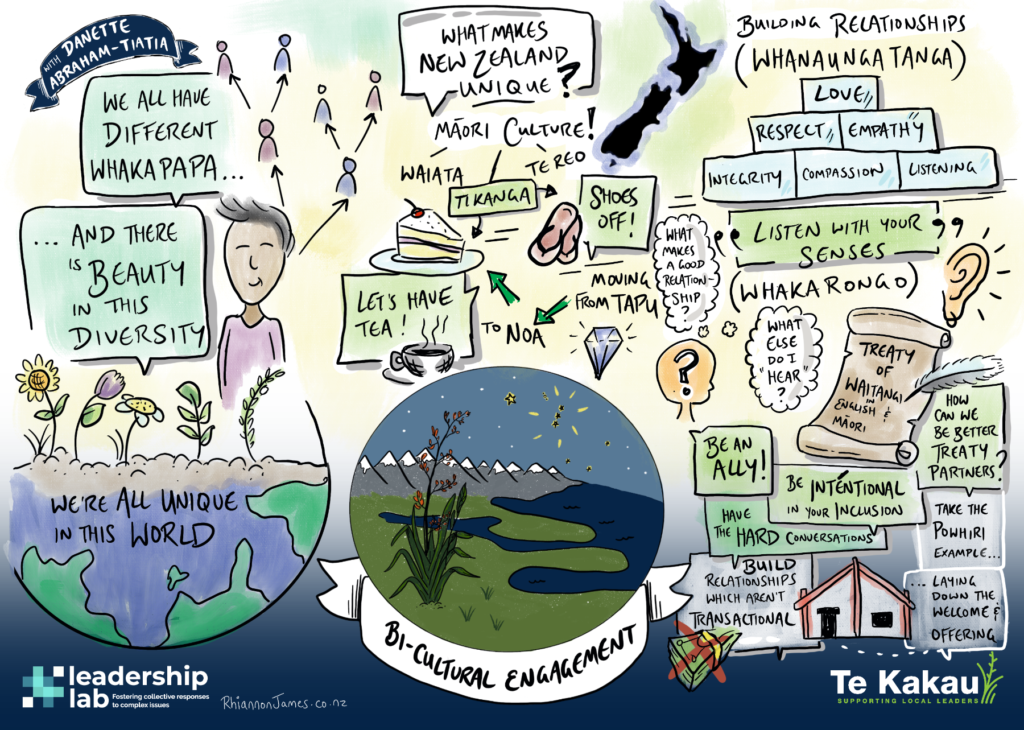 Hence Te Kakau works on developing and connecting 'valuable and vulnerable'  business and community leaders to ensure they are able to lead others through the business and community recovery. During the project we have partnered with local iwi to support six communities or cohorts including 1) Queenstown business managers and owners, 2) Māori community, 3) Queenstown Lakes Women Network, 4) Wanaka business managers and owners 5) Community, education and health sectors and 6) Human Resource / People and Capability managers.
In the first half of 2021, one hundred of these leaders participated in individualised coaching support based on either Gallop's 'Clifton Strengthsfinder' or the Stanford University 'Design your Life' model.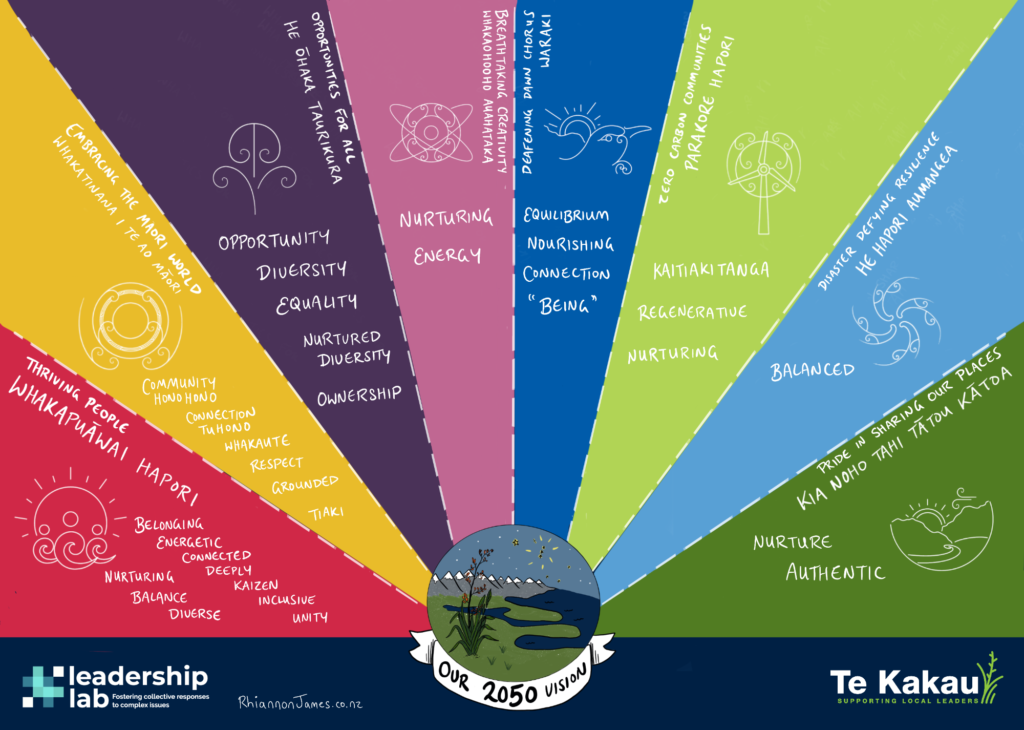 In late July we facilitated a large hui at Millbrook Resort where all leaders in the programme met for the first time. Our visual animator Rhiannon James had an incredible skill at listening to the conversations and creating images on her Ipad which were projected live on the big screen as we dialogued… the main image above is connected to the cultural narrative shared by kaumatua Darren Rewi, the second is the korero of our team member Danette Abraham-Tiatia sharing what's involved in bicultural practices. The third and last ones capture the emerging possible futures that the leaders are beginning to collaborate on within the region.
This short film shares a compelling and beautiful narrative shared by local business and community leaders in response to the three key themes of this mahi:
whānaungatanga (building relationships across the community)
manaakitanga (caring for ourselves and others)
mahi tahi (innovation and collaborating)
For more info check out https://leadershiplab.co.nz/projects/te-kakau/ and https://www.qldc.govt.nz/recovery/te-kakau
– Chris Jansen | Director and Senior Consultant, Leadership Lab