This month, we profile Cooper Sides.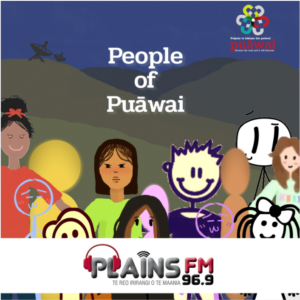 Cooper (they/them) has extensive experience as a youth worker with a diverse range of rangatahi. They are passionate about equity, advocacy and ensuring that marginalised voices are heard and acted on. Cooper is also host of the People of Puāwai podcast which aired on PlainsFM earlier in 2023.
Tell us about how you got involved with Leadership Lab and your journey since. 
I joined the Puāwai programme as a Tuakana for the Rainbow rōpū in 2021 and in 2022, I participated in the Incubator programme. I had actually applied to be part of Incubator a few years previously but had to withdraw as my work could not give me the time to participate. This year, I am part of the Te Whāriki programme, which is about activating intersectional leaders to provoke systems change and that's my jam! These three years of being part of Leadership Lab have been a privilege, an honour, and I wonder how I can use my connections to involve others, to help them find spaces like this for themselves, that have been mana-enhancing for me.  Many other spaces have tried to destroy me. Leadership Lab creates a space for a higher level of leadership, where people can grow and develop, and has shown me there are other people who get it, who get this kind of emotional and empathic leadership.
What inspired the idea for the People of Puāwai podcast? Why was it important for you to do this? 
I had a previous connection with Pia at PlainsFM and they had been looking for more content about young queer people. From there, I introduced Pia and Chris (Jansen) over coffee to bounce some ideas around. To be honest, I wasn't sure initially as I hadn't met the 2022 Puāwai cohort and I hadn't done anything like this before.  I didn't know if Chris was just really enthusiastic or if he saw something I didn't. Also, I had no work at the time so I said yes. But most importantly, I did believe in the idea of the project – getting these young, marginalised voices out there for others to hear.Reflections from Pia Titus, PlainsFM Youth Coordinator, who worked with Cooper on this series:
"I was really inspired by the stories the young people shared. I was really impressed with Cooper's sensitivity to the young people and creating a safe space for them to share their sometimes painful stories."
"I feel like this experience has reinforced the idea that Plains FM should be sharing marginalised voices in the youth space. I think we could also do a lot better on gender diversity in our organisation."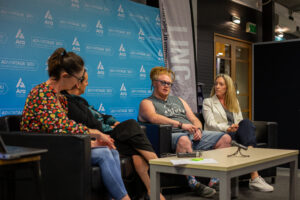 What did you hope to achieve through the podcast? How did you approach this project?
Honestly, I had no idea what I hoped to achieve at first other than getting their voices out there! I wasn't sure anyone would even take any interest but I went ahead and introduced the idea for it at a Puāwai hui and 7 or 8 came on board.  I gave the rangatahi a really broad brief first, asking 'what would you do a podcast about?' and that didn't work so I had to rein it in. It was suggested that we talk about their lives and they questioned who would want to hear about them. When I said that loads of people would be interested and that their stories were worth listening to, I saw a look in their eyes that made me realise that this was something that had to happen. I realised that telling these stories would change attitudes towards these marginalised young people and would help them see that their stories matter.
What is the impact of telling the stories of these young people's experiences? For marginalised communities? For others?
It's clear that rangatahi understand a lot more than we give them credit for. It has shown these rangatahi that they matter, that their stories matter, and that by telling these stories, they can change attitudes towards them as marginalised young people, and by extension, their communities. Telling these stories empowers and inspires others to share their experiences and what could have made things easier for them, how we can do better, and how to cause less harm. There is something to learn for everyone here.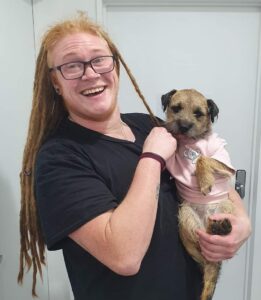 How do you see leadership reflected in this mahi? How is your leadership growing and changing as a result?
It was through viewing the production of this podcast with the lens of the code of ethics for youth workers, by primarily focusing on relationship and mana-enhancing ways of working with the rangatahi. I see their leadership for their communities in them having the confidence to speak about their experiences, which isn't easy for people to do! I feel that one of the most important parts about leadership is listening with empathy and utilising our privileges to hold space for the voices of others to be amplified rather than being spoken for. I hope leadership will also be reflected in the community because of the stories people have heard in the podcast.
Personally, I've added another tool to my kete – knowing that I can make and facilitate a podcast. It has highlighted that I have facilitation skills which I don't think I really was aware of. I know that I created a safe space for these rangatahi and I could see that as a reminder of my skills as a youth worker and I think I needed that.
Ngā mihi,
Cooper Sides (they/them), Te Whāriki team member, Leadership Lab
LinkedIn profile
Photo credit (cover photo): Erica Austin, Peanut Productions
Taken at Gender Health Justice podcast – listen here
You can also connect with stories of impact from across our Leadership Lab ecosystem by signing up for this monthly pānui (see bottom of www.leadershiplab.co.nz ), joining our Leadership Lab LinkedIn page and browsing our website. Thanks heaps for your interest.