Systems Change Webinar#2 October 12th 4-5pm
Design Thinking, Systems Thinking, Futures Thinking 101
Are you curious about shaping a future that is both sustainable and equitable? Join Jade Tang-Taylor in this immersive workshop that will empower you to navigate complexity and envision positive change through the lenses of design thinking, systems thinking, and futures thinking.
Design Thinking for Community Innovation: Uncover the principles of design thinking and learn how to craft user-centric solutions that resonate with real needs. Through empathy, ideation, prototyping, and iteration, discover how design thinking sparks creative problem-solving.
Systems Thinking for Holistic Understanding: Explore the interconnected web of systems that influence our world. Gain insights into the relationships, feedback loops, and unintended consequences that shape complex issues, and discover how systems thinking can reveal pathways to impactful change.
Futures Thinking for Strategic Foresight: Anticipate and design for future possibilities by embracing futures thinking. Learn how to identify trends, uncertainties, and potential scenarios to make informed decisions that shape a more resilient and adaptable future.
This workshop welcomes change-makers, innovators, strategists, and dreamers who are passionate about shaping a brighter future. Whether you're from the private sector, civil society, academia, or government, this workshop offers fresh perspectives and strategies to drive positive change.
Bios:
Jade Tang-Taylor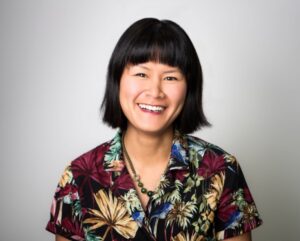 Jade is a purpose-driven, design-led, creative social entrepreneur. Endeavouring to connect across sectors, inter-disciplinary spaces, inter-cultural communities and find ways to collaborate, co-design and co-create positive social impact together, using design thinking, systems thinking & futures thinking. Currently, Jade is a part-time Innovation Director at academyEX | Tech Futures Lab and a part-time Innovation Consultant / Associate of Toi Āria and Innovation Unit. She also serves on a couple of governance boards; one at a grassroots community-level and one at a ministerial-level, she's an EHF Fellow, she's part of the SASS (Systems-change Advocacy, Support and Solidarity) collective who recently launched "Community-Driven Pathways for Systems Change in Aotearoa", and most importantly she's a proud working mum of 1.
For more information email judybrucenz@gmail.com
About the Systems Change webinar series
Introduction to Systems Change in Aotearoa is an interactive webinar series for emerging and established leaders interested in learning more about the frameworks and methodologies of systems thinking, tools, leadership, and change. Each one hour webinar will provide opportunities to: 
Connect with other community and sector leaders within NZ interested in equity issues

Gain fresh understandings of systems change and ways to apply knowledge and tools

Share innovative practices and ideas that generate systems change 
This series is a Leadership Lab Rourou initiative which hosts spaces to listen to contemporary voices, to collaborate with others, and to address gnarly issues. LinC Rourou amplifies marginalised voices for advocacy and to provoke system change.