On Monday 21 November 2022, LinC organised a visit to Masjid An Nur (An Nur Mosque) in Riccarton. This visit had been a long time in the making – following an invitation from former LinC Cultivator participant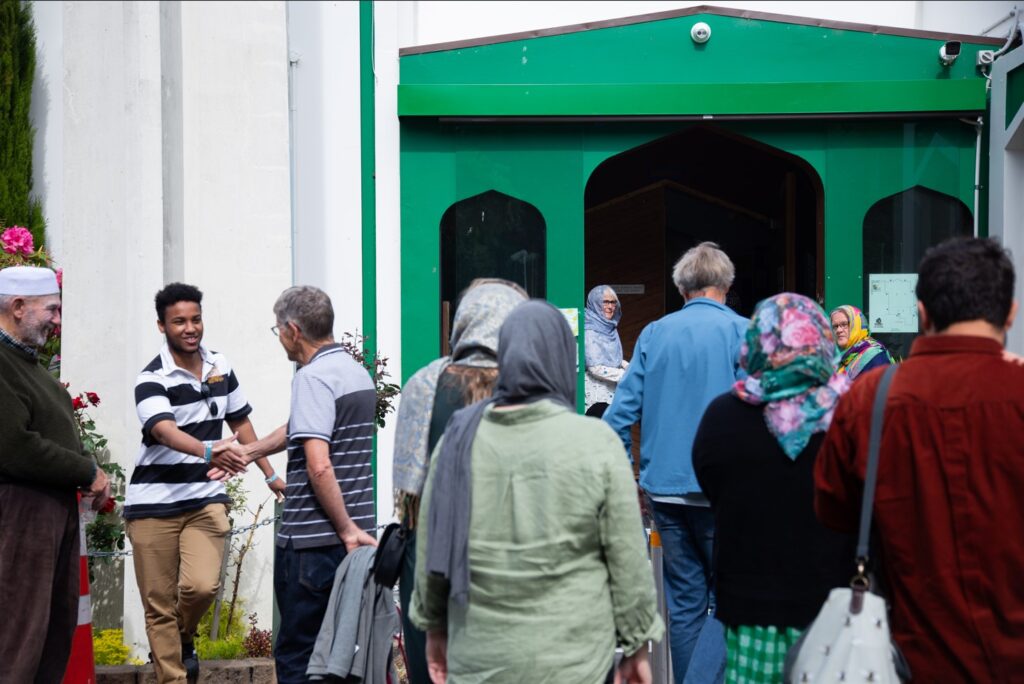 Jumayah Jones, preparations had been underway since 2020 but the event kept getting postponed due to changing COVID restrictions and fluctuating case numbers.
I was lucky enough to help out with preparations for the visit, working alongside Jumayah as well as Sarah from the mosque and Erica and Abdi from the LinC team. I mainly helped with the logistical side of things, sending out comms about what was going on and what people could expect from the visit.
In addition, I invited any interested participants to share their thoughts about going to the mosque in a pre-visit and post-visit interview for my human rights radio show/podcast, Speak Up-Kōrerotia. Seven people took up this opportunity, two from the organising group and five participants. It was a real privilege talking with them all about their expectations and learnings from the visit. Some key themes came through:
Pre-visit: People described their curiosity and desire to 'demystify' the physical space of the mosque, as well as learn more about Islam and better understand the Muslim community in our city.
Post-visit: Participants talked about the physical attributes of the building and described its hosts with words like 'welcoming', 'warm', 'kind'. Major learnings from the day included understanding more about Islam and its relationship with Christianity, more about the role of women in Islam, more about Islamic practices (with some drawing parallels with certain tikanga Māori), and a greater realisation of the difference between practices set out in Islamic texts and those imposed by laws or cultures in various countries. It was apparent how much everyone valued the 'Islam 101' presentation that Jumayah and Sarah put together, and their willingness to engage in a very honest question-and-answer session.
Reflecting with people about their pre- and post-visit feelings reaffirmed for me that knowledge of others' customs and faiths is a powerful way of building bridges between communities – and that inviting people into community spaces, particularly ones which are as meaningful as a place of worship, can really kick-start these journeys towards friendship and understanding.
The 'Visiting An Nur Mosque' Speak Up-Kōrerotia show will air at 9pm on Wednesday 18 January 2023, on Canterbury's Plains FM 96.9. It will then be available as a podcast
Sally Carlton, former Cultivator participant and host of Speak Up-Korerotia radio show/podcast.
Our Leadership Lab NZ Rourou programme focusses on amplifying marginalised voices for advocacy and to provoke system change.  A wide range of initiatives are being created which all focus on this Kaupapa. Our partner for this event was Jumayah Jones and Abdi Ahmed from An Nur Mosque and Sally Carlon from Speak Up-Korerotia.