Leaders' Connect #17: March 4th 4-5pm
Leading to the North-East
Teaching to the North-East, is all about high relationships and high teaching skills, but what does it mean to lead to the North-East?
In this Leaders' Connect Claire shares her journey as a warm and demanding leader who is unapologetic about leading the change that is needed for our young people. Having a clear vision and high expectations of her team, Claire explores what it takes to get the best out of your leaders and teachers whilst looking after their wellbeing and always keeping the needs of learners at the centre of any innovation and change.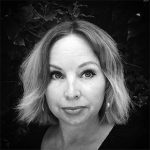 Claire Amos – Principal, Albany Senior High School
Claire is Principal at Albany Senior High School in Auckland, New Zealand. She was also one of the three foundation Deputy Principals at Hobsonville Point Secondary School. Claire has worked for a variety of schools and educational organisations in her twenty- plus year teaching career. This has included working at a number of new and established secondary schools as well as working on various national projects with the NZ Ministry of Education, the Network for Learning and, and the New Zealand Qualifications Authority. Claire was a founding member of the Education Council of Aotearoa and is a board member of NetSafeNZ.
Claire is passionate about her family, education, design and tattoos, living by the mantra – "you can never be overdressed or overeducated".
About the Leaders' Connect online series
Leaders' Connect is an interactive, relational, online space for education leaders. These one-hour online hui occur fortnightly and the aim is to:  
Provide a safe place of connection for education leaders within NZ

Support leaders' wellbeing 

Gain fresh leadership knowledge and capacity 

Create professional connection via an online platform

Provide a space for learning and sharing innovative practices and ideas 
Leaders Connect was initiated by our team during the COVID19 lockdown in March 2020 and faciltated 15 Leaders Connect sessions in 2020.  In October 2020 the Ministry of Education agreed to sustain this initiative through resourcing it till the end of 2021.
Videos from past events
https://leadershiplab.co.nz/videos/