Whakarongo ki te tangi i ngā manu e karanga nei – Listen to the call of the tui
Do you…?
Join the Incubator journey this year…
Incubator is an engaging 9-month personal development journey, which supports leaders to grow equitable and thriving communities, and to take the time to reflect deeply on their own personal leadership.
It begins at the time of Matariki (June 2023) and concludes in April 2024 and is designed to:
Hold space for Te Tiriti and equity as an inclusive programme
Empower leaders to support Hauora (holistic wellbeing) and community flourishing
Cultivate connection through small group and whole team shared learning opportunities
Support personal exploration of strengths and individual leadership journeys
Create space for reflection with peers to bring new perspectives to leadership and your communities
What it involves… your opportunities
3 One-day and 1 Half-day Wānanga – Whole group event
Dispersed over 9 months and held at various locations around the wider Christchurch area.
Focus on Leading self and growing leadership in our communities
5x Action Learning Groups (ALG's) – Small group process
Harnesses the ideas and skills of each participant while working to support individual and collective perspectives and thinking.
Connect deeply with a diverse range of colleagues supporting, learning, and collaborating together

Strengths Finder Coaching – 2x individual coaching sessions
Helping to bring an awareness of your strengths and talents so you can live and work at your best SF coaching continues to be one of the most empowering aspects of the programme
If you're interested in expressing your interest please contact us by May 30th 2023
Contact Us Now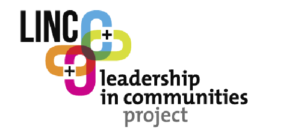 LinC since 2015…
Growing leaders in thriving communities
The LinC (Leadership in Communities) Project was created in 2015 as a partnership between Leadership Lab and the three city councils, local philanthropics, tertiaries and local iwi with a vision of "Growing leaders in equitable and thriving communities". Over 8 years LinC has worked with over 300 physical communities and communities of interest throughout Canterbury. 
Our LinC tikanga/ways of working focusses on;
Te Tiriti o Waitangi |Kaupapa Māori Principles |Intersectionality and Identity | Equity | Empowered Pathways |Inclusion of Diversity | Cultural Safety | Invisible Leaders | Network Leadership | Flipped Power Dynamics
Between 2022 and 2024 LinC has three connected components; Incubator, Puāwai and Rourou
LinC Puāwai conceptual framework 2022-2024
Showing up differently: Collective approach to complex issues
This is a case study which outlines the key collaborative processes that have been developed in LinC and are transferable to other collaborative projects. "Showing up differently" framework
Read more of LinC's story since 2015
Our old project website is a great archive of some great work
Videos from various LinC projects
Discover More