As much of New Zealand steps through a period of emergency, the conversation is turning towards recovery. Sitting in my new work-from-new-home office in Denver, Colorado, it feels like a very long time since my own experiences in emergency response. I helped establish and lead the now well-known Student Volunteer Army (SVA), and had a leadership role in all of our initial responses to the earthquakes, plus the Japanese Tsunami and Hurricane Sandy in USA. Every time it feels exactly the same yet completely different – like a moment of déjà vu or waking from a fever dream. Response bleeds into recovery and suddenly it's been a year, 5 years, 12…
It might be tough for some to hear right now, but recovery is a really really long road. I recall scoffing when being told it'll be at least 15 years before Ōtautahi Christchurch feels recovered, yet now, 12 years on, I'd wager closer to 25. What isn't always immediately obvious are the social scars that occur for individuals, whānau, and communities as a result of natural disaster. These are what made COVID feel so hard for so many.
With the benefit of time, I now believe that the most significant contribution of the Student Volunteer Army wasn't the shoveling of silt (roughly the weight of the Empire State Building's worth!), it wasn't fixing or removing hundreds fences and doors, or stacking the bricks of thousands of fallen chimneys. It was the emotional salve provided for those being helped and for each of us 11,000-odd volunteers. The experience of knowing that there is good in the world, that people care. Knowing that even when the worst happens we can be helpful and contribute, that our lives matter.
For the people who are leading work in these contexts, either formally in "Leadership Roles" or informally as leaders in a community of some kind, there is a heavy burden to be borne. Many are burned out through the process. Supporting these valuable and vulnerable leaders was the founding kaupapa of Leadership Lab's long standing LinC (Leadership in Community) initiative in post-earthquake Christchurch.
This is the same energy that our Leadership Lab team felt in Tahuna Queenstown working in the COVID-recovery throughout 2020-2022. Te Kakau, in partnership with QLDC (Queenstown Lakes District Council), Mana Tahuna and many others, was all about supporting communities to rebuild themselves in a way that makes sense for them, whilst nourishing the people who hold those communities together. It was about a journey of recovery.
We are thrilled to release our latest case study, our Te Kakau case study, which describes how the project emerged and will be useful for anyone wishing to support communities through the coming recovery periods. The Five Key Principles outlined in it provide a scaffolding that will accelerate you along the journey towards success, whilst bypassing many of the common errors that are made by well-intentioned people in a post-disaster context. Whether a school community, neighborhood, or entire city, the principles can apply equally.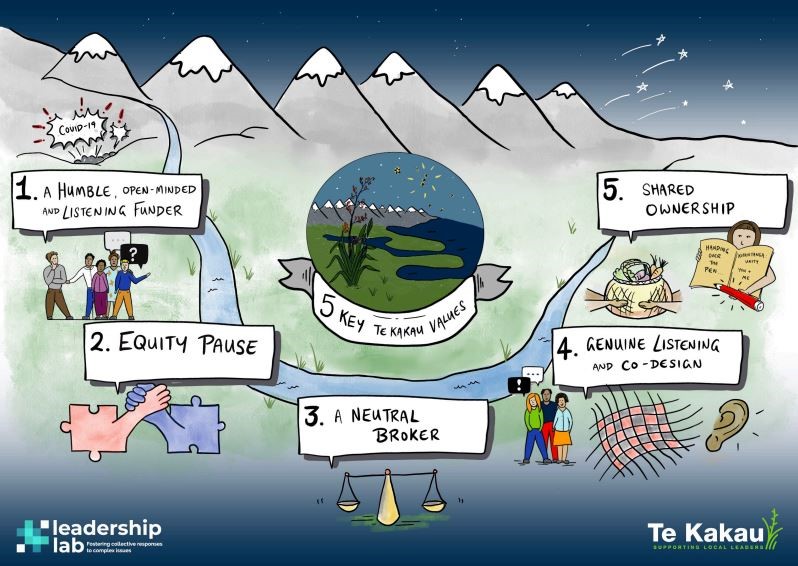 Image credit: Rhiannon James
Another key resource that will provide even greater depth and guidance stepping into community recovery is the work we completed for Te Hau Toka in the same time period. The purpose of the community co-design process was to determine the mental wellbeing challenges being experienced by communities in the Southern Lakes region as a result of COVID-19 and to gather ideas from the Te Anau, Cromwell, Wānaka and Queenstown communities about how Te Hau Toka could best help support their mental wellbeing. Two documents emerged; firstly a Community Mental Wellbeing Co-Design Summary which captured the voices of hundreds of community members and secondly the Community Mental Wellbeing Expert Design Challenge which drew on the dense wisdom of contributors with experience and expertise in the wellbeing and social change arenas ranging from Clinical Psychology, Mental Health, Population Health, through to Anthropology, Whanau Ora Commissioning, Nutrition and Human Performance, and Disaster Recovery.
Each of the Process Principles and Interventions and Ideas from these documents will add richness to your understanding of how communities can heal together with support from official response organisations. We hope anyone who needs a sense of optimism, hope, or direction in a dark time finds it from these succinct and thought provoking resources and we are more than happy to discuss how these ideas might be relevant to you and your community.
You can also connect with stories of impact from across our Leadership Lab ecosystem by signing up for this monthly pānui (see bottom of www.leadershiplab.co.nz ), joining our Leadership Lab LinkedIn page and browsing our website. Thanks heaps for your interest.
Ngā mihi,
Jason Pemberton – Leadership Lab Senior Consultant