Most organisations navigate significant change and restructure at some stage and when they do, there are a range of challenges that can emerge with the disruption. In 2021, Leadership Lab engaged with FENZ (Fire and Emergency New Zealand) Tau Ihu (South Island) to support a group of their South Island District Commanders and their newly formed leadership teams with this journey. Leadership teams were involved from the Nelson Marlborough, West Coast, South Canterbury and Christchurch regions. Jade Beaman, Leadership Facilitator and Coach, briefly shared some of his reflections on the experience in his LinkedIn post (linked here als0):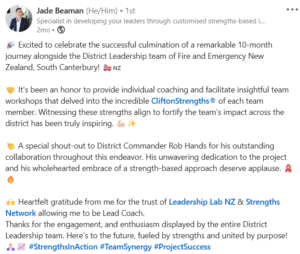 Many of the observations and learnings are relevant for others going through a similar experience, whether a large organisation or a single team figuring out how to move forward together.
FENZ had been through a significant restructure and a number of new teams had been formed. As with any change process, people's experiences were varied and a range of emotions were present. There was no doubt that people were passionate about and dedicated to serving the community as well having a pride in the camaraderie and purpose of the organisation. But, people's individual experiences and emotions related to the restructure were making it difficult for new teams to come together, build trust and feel connected as a group so that they could perform at their best.
Initially, District Commanders received some individual CliftonStrengths coaching and after some consideration, it was decided to fully commit to the CliftonStrengths approach. Jade was really excited about this as "people sometimes take some convincing and don't see all the potential of what this approach can achieve" but FENZ saw that potential and "dived right in". Over an 18 month period, each of the leadership team members completed the 'rolls royce' of coaching programmes – a 'full 34' CliftonStrengths assessment followed by three 1-on-1 coaching sessions and each team was also taken through two team workshops. Each leadership team also experienced strategic planning and team building workshops as part of the process.
The individual coaching sessions served multiple purposes in holding space for people to share their experiences of the change process including the emotional impact, giving them the opportunity to develop a deeper sense of self-awareness of their unique talents, their blindspots and how each of these influence their work and their team.
When it came to the team workshops, the focus was on understanding each other, learning to have conversations about how individuals work, think and communicate differently and discussing how teams might harness the power of this information to come together, build trust and work more effectively.
Woven through the individual and team coaching sessions were the following principles:
– The restructure has happened and we cannot change this
– It's ok to have different experiences of the same thing
– Each of us has the opportunity to use our talents to increase our individual and team effectiveness
– We can focus on what we can control and come together with that in mind
– We have a shared purpose in our commitment and passion for community service
– We can use our strengths as a tool to build trust, start conversations and become a stronger team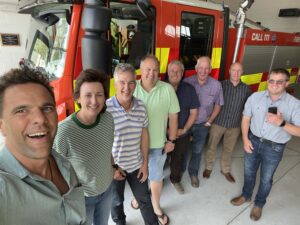 Jade commented that "people appreciated the opportunity to reflect and learn about themselves and have a new language through Cliftonstrengths to explain how they are naturally wired to think, feel and behave. They have the opportunity to share this with their colleagues and see how they can better work together to build and strengthen the team and reach their KPI for their district."
Another observation Jade made was the value of the District Commanders having an additional coaching session following the team sessions to help give them insight into the talents of specific members of their teams. These sessions provided some invaluable insights to these leaders about how some talents might be influencing specific situations and dynamics and provide them with some tools that they might lean into to support their leadership in this space.
Ultimately, it was clear that by investing in a strengths-based, multi-pronged approach to support these individuals and teams, people felt heard, valued and understood and teams were able to build on this new information about themselves and their colleagues to strengthen relationships, build trust and move forward together to be at their best.
The following coaches and facilitators were involved in this project:
Jade Beaman, Rochelle Faimalo, Emma Chivers, Kerryn Malcom, Chris Jansen and Josh Turner
Thank you to Strengths Network for your support in this mahi.
Thank you FENZ for investing in your team and giving Leadership Lab the opportunity to work with you.
The following Leadership Lab projects have or continue to utilise CliftonStrengths coaching:
LinC Puāwai, LinC Incubator and Te Kakau
If you like to find out more about Leadership Lab's projects and how we utilise CliftonStrengths, contact info@leadershiplab.co.nz
You can also connect with stories of impact from across our Leadership Lab ecosystem by signing up for this monthly pānui (see bottom of www.leadershiplab.co.nz ), joining our Leadership Lab LinkedIn page and browsing our website.
Thanks heaps for your interest.